Massage | Chiropractor Centennial
Massage Therapy:  A Better Approach To Health Care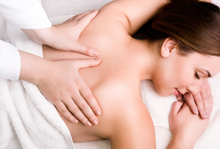 In an effort to better address the needs of the people we serve, Maximized Health offers several forms of massage therapy. From prenatal care to injury care, your massage experience will always be top notch.
INTERESTING FACT:  Maximized health is one of the few clinics in the area to offer on-site Medical Massage.
WHAT IS MEDICAL MASSAGE?  Medical Massage is a higher level of massage therapy. It is a coordinated effort between a doctor and a therapist. The doctor is responsible for diagnosing the exact cause of the musculoskeletal complaint, and in doing so, directs the therapist to deliver the most successful massage therapy session possible. The therapist will then advise the patient on home care recommendations to support in office treatment. Patients often remark that medical massage is far superior to traditional massage as it is more restorative and rehabilitative in nature.
Questions & Appointments: 303.462.4476
New or existing client? Please call to schedule.