Physiotherapy | Chiropractor Centennial
Physiotherapy:  A Better Approach To Health Care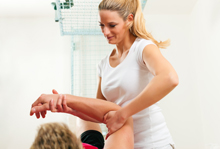 At Maximized Health we believe that chiropractic and physical therapy are two very effective forms of treatment. However, we also believe that when combined appropriately, an even more positive patient outcome is possible.
In conjunction with chiropractic care, we also use physiotherapy techniques to treat muscles, ligaments and tendons. In addition, patients receive very specific advice regarding home care instructions to support in office care.
We often hear patients remark, "You offer so much more here than the last office I went to."
Due to our unique combination of chiropractic and physiotherapy, we often experience a 300% better patient outcome than traditional interventions.
Questions & Appointments: 303.462.4476