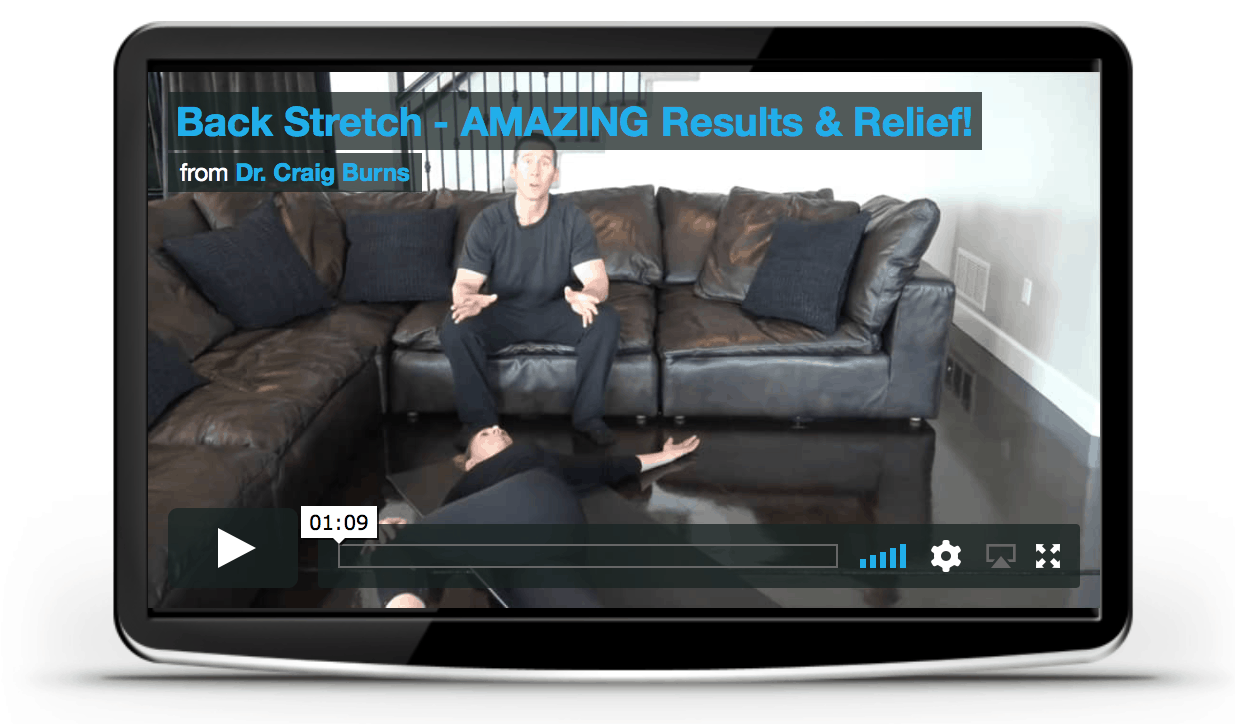 It appears as if all types of work take a toll on our lower spine and body. From being a stay at home parent to being a 9-5 desk jockey (sitting or standing), we all can benefit from being proactive.
If we want to move well, feel well, and age well… what follows is super valuable advice!
Please enjoy these 2 videos and share this page with others.
Try Doing This
Low Back Stretch

On A Regular Basis. It Will Help!

Do this regularly (or daily).

You might be surprised by how good it feels!

No, this does not replace a chiropractic adjustment. Yes, this should be done in between your visits to the chiropractor.
"If we don't take time to take care of our body now, we will surely regret it later in life."
[feature_box style="1″ only_advanced="There%20are%20no%20title%20options%20for%20the%20choosen%20style" alignment="center"]
Special Offer For Chiropractic Visit & FREE 60-minute Massage
[/feature_box]
Suggestions and Ideas:
Do Spinal Flow 4-7 days per week
Do not force any position or stretch
Time your breathing (exhale as you stretch)
Never stretch dehydrated
Consistency is key
Who Can We Share This With Right Now?
Family members
Friends
Neighbors
Coworkers
Church members
Sharing is caring. Together we can improve our family & community
---
They Say Work-Related Stress Is
Worse Than Smoking,

What Else Do We Need To Know?
"Our habits define our health and our future. Let's take control of both by taking control of our habits."
Many of us are more stiff and sore than we would prefer to be. Many of us are allowing tension accumulation to fast track how our body is aging.
All of us would like to avoid a future of pain, immobility or even disability… right?
All of us want to stay loose, pain-free, and active as we age… right?
Good news! It is possible if we are smart and proactive when it comes to caring for our spine and our body.
With the right guidance and advice, it can be quick and easy.
We can do it!
---
Recommended Links & Videos
Special Offer For Chiropractic & FREE Massage
Top 7 Tips For Finding The BEST Chiropractor Near You
Neck Stretch For Work-Related Stress
Chiropractor Centennial
Comments
https://maximizedhealth.net/wp-content/uploads/2019/05/back-relief-chiropractor-centennial.png
724
1236
Dr. Craig Burns
https://maximizedhealth.net/wp-content/uploads/2020/09/logo-chiro.png
Dr. Craig Burns
2019-05-08 17:39:21
2019-05-23 17:11:48
Low Back Stretch For Work-Related Stress